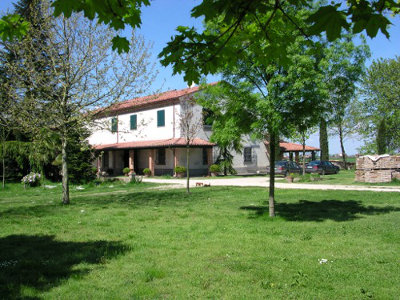 "L' Angelina" is a beautiful farmhouse in the heart of the Romagna countryside. It has been completely renovated to offer maximum hospitality, while maintaining the charm and simplicity of a country house. Ideal for those seeking relaxation and tranquility in close contact with nature, just minutes from cities like Ravenna and Ferrara, a few steps from the Adriatic coast and the beautiful valleys Comacchio.

The farm is located  between Ravenna and Ferrara, a few steps from the park of the delta of the PO river, and the lagoon of Comacchio therefore also near the sea, with pine forests and amazing landscapes, visited all year round by bicycle, MTB or motorbike. Its also not far to the Apennines Mounts,  with old villages and forests, and especially less than 20 minutes from Ravenna.

We are producers of vegetables, fruits, wine, grain, and we also have animals. Foods products are selected and sold, but the first fruits and the first choices we keep for our customers and we serve lunch and dinner. 
Dogs allowed, other animals on reservation.
The whole country residence is powered by solar energy to a lower environmental impact and respect for nature.
The private road leading farm 
The mascot and the owner of the farm

Inside farmhouse


The farm and animals